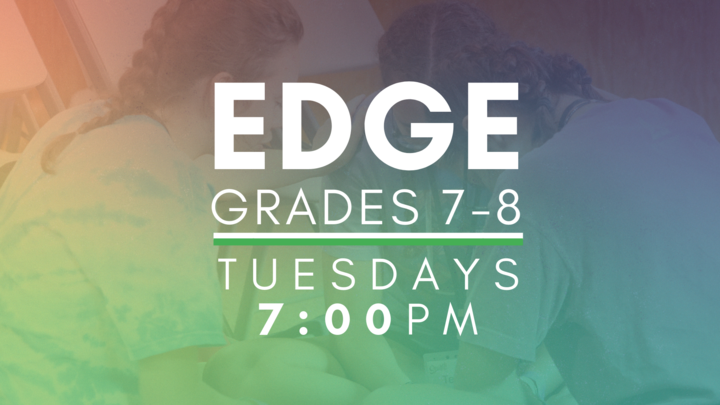 EDGE
17 September 2019 - 5 May 2020
$175
Dates & Times
17 Sep 2019 - 5 May 2020

7:00pm - 8:30pm
Attendee Types
7th Grade

$175

8th Grade

$175
Details
ATTENTION: THE EDGE PROGRAM IS CURRENTLY FULL. We are still accepting registrations, however, we are currently waiting for more adult volunteers in order to open additional small groups. Children will be added to rosters in the order that they register or if a parent is added to the Core Team. If you are interested in leading a small group as a Core Member, please contact Mark Vallone at mvallone@ap.church. Thank you!
ABOUT EDGE
Establishing the "roots" for Youth Ministry at St. Anthony's, EDGE is our program for 7th-8th graders and is all about learning how to know and love Christ and His Church.
EDGE SOCIALS
A beautiful thing about being Catholic is that we are ONE Church, we are ONE family. In EDGE, we hope to make it possible for teens to grow in community with each other, with the whole parish, and ultimately our universal Church.
---
ATENCIÓN: EL PROGRAMA DE ANCHOR ESTÁ ACTUALMENTE LLENO. Todavía estamos aceptando inscripciones, sin embargo, actualmente estamos esperando más voluntarios adultos para abrir grupos pequeños adicionales. Los niños se agregarán a las listas en el orden en que se registran o si se agrega un padre al Equipo Central. Si está interesado en liderar un pequeño grupo como miembro principal, comuníquese con Mark Vallone a mvallone@ap.church. ¡Gracias!
Acerca de EDGE
Establecer las "raíces" para el Ministerio de la juventud en St. Anthony's, EDGE es nuestro programa para los estudiantes de 7º-8º grado y se trata de aprender a conocer y amar a Cristo y su iglesia.
EDGE SOCIALS
Una cosa hermosa de ser católico es que somos una iglesia, somos una familia. En EDGE, esperamos hacer posible que los adolescentes crezcan en comunidad entre sí, con toda la parroquia y, en última instancia, con nuestra Iglesia universal.